In the 2011-2015 period, the Government will issue preferential mechanisms for key economic regions, focusing on the restructuring of the economy and businesses, and training high-quality human resources, in order to improve their leading role in the country's economic development.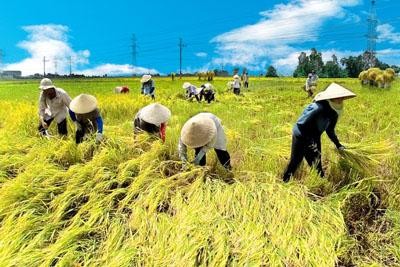 Harvesting rice in the Mekong Delta which is one of the four major key economic regions in the country.
Deputy Prime Minister Hoang Trung Hai made the statement while chairing a conference in the Mekong Delta city of Can Tho on April 7 on the development of key economic regions.
According to the Ministry of Planning and Investment, Vietnam now has four key economic regions, including the North, Central, South and Mekong Delta, which account for 27.42 percent of the area and 51.27 percent of the population of the country.
They see dynamic development with modern economic structures and play the role as the locomotive in national development and international integration.
However, Deputy PM Hai, who is also Head of the State Steering Committee for Key Economic Regions, said the regions still suffer from low investment efficiency and the poor quality of planning, management and implementation work.
They are yet to have any products with high added values and competitiveness, he added. He instituted relevant ministries, sectors and localities to coordinate closer in planning and implementing key projects in the four regions as well as in strengthening linkage between them.
The conference set a target that the GDP growth rate of these key economic regions will reach 9-10 percent, about 1.4 times higher than the country's average rate.
In the 2006-2011 period, the regions recorded an average GDP growth rate of 10.98 percent and a per-capita income 3.6 times higher than that of the country. Their export value accounted for nearly 90 percent of the country's total.