On Apr 14, 2013 morning, Khmer people in the Mekong Delta province of Soc Trang happily welcomed Chnam Thmay Chol Tet or ethnic Khmer's traditional New Year.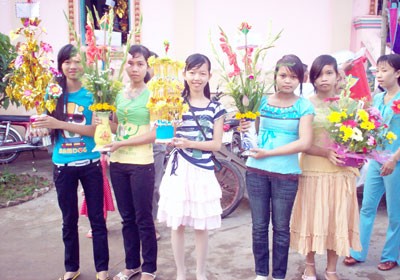 Khmer girls welcome traditional Tet (photo SGGP)
In Soc Trang, where nearly 400,000 Khmer people live, we can see the bustling festival atmosphere around the hamlets and hear the noises of Sa Dam drum and pentatonic music, Lam Tho style dances which also brought even more warmth to the Khmer Tet .
Sa Kha Yang, Chief of the Ethnicity Board of Soc Trang province told reporters that Chol Chnam Thmay Tet of the Khmer people this year will fall on 3 days April 14, 15 and 16 of 2013 .
As Year of Chol Chnam Thmay begins, the religious executive committees, the provincial authorities of all levels visited, congratulated and donated support money to the temples and helped the poor and disadvantaged Khmer households to have a happy Tet.
Particularly, the Ethnicity Board of Soc Trang province announced that on this occasion they had established 26 delegations to pay visits and send greetings to temples in the province as well as families of priority policies and Vietnam's heroic mothers, armed forces of the ethnic Khmer with the total number of gifts worth VND 125 million.