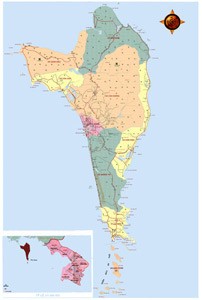 Phu Quoc's map view.
Viet Nam's border guards on Thursday caught several members of a gang of Cambodian pirates who were forcing four Vietnamese fishing boats to sail to Cambodia.
The flotilla was intercepted 14 nautical miles west of Phu Quoc Island by a combined force of the Coastguard, Naval Zone Five and Sea Police.
A speedboat believed to be carrying the gang's leader escaped from the scene.
Besides four Cambodian nationals, the border guards seized three AK-47 rifles, a K59 pistol and 85 bullets.
Initial investigations suggest the hostages would have been held for ransom.