Director of the Department of Labor, Invalids and Social Affairs in the Mekong delta province of Kien Giang Dang Hong Son said that the department is carrying out the program for accidential injury prevention among kids following deaths of drowning children.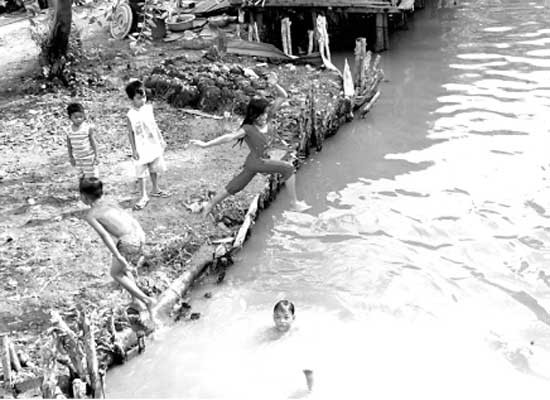 Mekong delta region has many rivers; accordingly children die from drowning (Photo:SGGP)
In 2014, the province reported 22 children died in drowning accidents; in 2015 additional 15 kids drowned and since the beginning of the year, the deaths of more seven kids in drowning accidents in Rach Gia Town and Kien Luong District have broken people's hearts and set off alarm bells.

Accordingly, the Department will implement the program of accidential injury prevention for kids in the period 2016-2020 aiming to reduce the number of drowing deaths among children; increase people's awareness of swimming learning; build up safe house, school and the community.
Additionally, the department will provide swimming training to children across the province and liaise with related agencies to work out swimming training plan and monitor implementation of river safety regulation and safety for children in swimming pool.

The provinces' Youth Communist Union of Le Hong Tham said that annually, around 100,000 youth communist members are trained to teach swimming for kids. Unions provide free swimming training for children in summer season. Children Culture House in Kien Giang Province has planned to provide gratis swimming training to children from low-income families in the province.

On September 10, heart-breaking death of brother and sister Tran Vo Phuong Anh, 14, and Tran Vo Phuong Ly, 10 died in drowning accident in a river near Xuyen A bridge in Rach Gia Town. Phuong Anh and his sister Phuong Ly along with their friend together swam in the river. Discovering that his sister was falling into deep hole, Phuong Anh swam to rescue yet he drowned. Inhabitants' efforts to rescue them were unrewarded and rescue crews and fire fighters were mobilized to fish their body out of the river after two hours.

On the same day, 14 year old Tran Quoc Viet in Kien Luong District and his friend swam in the river near sewer Ba Hon; unfortunately, when they were playing together, Viet fell into the sewer and he was swept into the sea. Before in August three kids from seven to ten years old in Binh An Commune in Kien Luong District died from drowning because they fell into a pool to raise shrimp in the back of the house.