Korea, Australia, ADB Provide US$165.5 Million for Viet Nam, Cambodia Road ImprovementsThe Republic of Korea, Australia and Asian Development Bank (ADB) are providing $165.5 million in loans and grants to Viet Nam and Cambodia to rehabilitate transport infrastructure to promote cross-border trade and support economic development in the Greater Mekong Sub-region.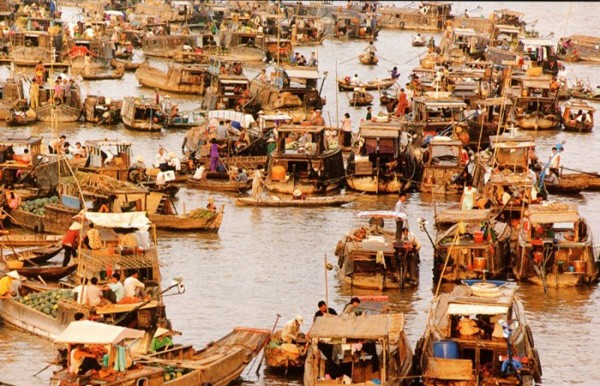 A floating market in the Mekong Delta
ADB will provide a US$75 million loan to Viet Nam and a US$7 million loan to Cambodia to help fund the Greater Mekong Sub-region Southern Coastal Corridor Project. South Korea will extend a US$50 million loan to Viet Nam through the Economic Development Cooperation Fund, which provides official development assistance to developing countries. Australia will extend grants of US$25.5 million to Viet Nam and US$8 million to Cambodia.
Viet Nam will contribute US$58.2 million and Cambodia will provide US$3.7 million to complete funding for the project.
"Cooperation in the transport sector has been given a high priority in the Greater Mekong Sub-region because the poor state of transport infrastructure is a major constraint to economic growth, trade and other forms of cooperation," Paul Vallely, senior transport specialist of ADB's Southeast Asia Department, said in an announcement the bank released on December 5.
The Greater Mekong Sub-region is composed of countries sharing the Mekong River – Cambodia, People's Republic of China, Lao People's Democratic Republic, Myanmar, Thailand and Viet Nam.
The Southern Coastal Corridor runs for 924 kilometers from Bangkok through Cambodia
and ends at Nam Can in the south of Viet Nam. The project specifically involves the rehabilitation of 15 kilometers of national road in Cambodia that links to the border of Viet Nam and the improvement of 96.1 kilometers of national highway in Viet Nam, which includes the construction of two bridges across the Cai Be and Cai Lon rivers. New cross-border facilities will also be developed.
The Cambodian section of the project is expected to be completed in June 2012 and the Viet Nam section in December 2014.
The project should result in reduced travel times and lower vehicle operating costs along the corridor, which would encourage economic activities, provide employment opportunities and improve access to social services.