The Korean Disabled Veteran's Association for Agent Orange inaugurated its representative office on Tuesday in Ho Chi Minh City.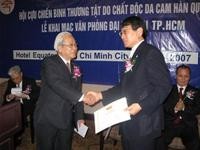 Chairman of the Korean Disabled Veteran's Asociation for Agent Orange, Mr. Lee Hyung Kyu (L), gave US$2,000 to Vice Chairman of the Viet Nam AO Victims' Association Huynh The Cuoc at the inauguration ceremony in HCMC on March 13 
The office is set to receive and provide information relating to the association's operations in HCMC.  
The head of the office, Mr. Seo Cheol Jae, said that those South Korean veterans that sued the U.S manufacturers of AO after being affected by it during the Viet Nam war have won a judgment against the companies in the Korean courts. 
He confirmed that the association would always support and cooperate with the Viet Nam AO Victims' Association in the lawsuit against the US companies. 
At the inauguration ceremony, the association donated US$2,000 to the HCMC AO Victims' Association. 
Another representative office recently opened in Ha Noi on March 10.