According to the World Bank, the quality of Vietnamese laborers has just achieved 3.8 points over 10 points, ranking at the eleventh position in the Asian region.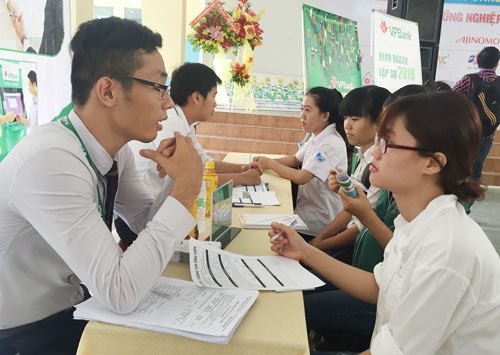 Young people at a job fair in Ho Chi Minh City (Photo: SGGP)
Moreover, labor efficiency is just one over third compared to other Asian nations. Labor quality could not meet the work demand; accordingly, recently, employers have had to re-train their workers to improve the quality.
Enterprises need laborers in technique yet those who meet the technique qualification just account for 24.7 percent and people having technique degree just account for 17.9 percent.
As per leading local job search service VietnamWorks' survey in half of the year, recruitment demand increased 32 percent but the supply just leaped 20 percent compared to same period last year. Worse, though enterprises are in need of labor yet 60-70 percent of new graduates are unemployed.
Most of enterprises especially foreign-invested companies can not stop complaining of the quality of local laborers who are unable discovering and resolving the problem and not able to adaptable for team or group work, even for the company's working environment.
Director of Vietnam II-VI Company Nguyen Van Thanh cited interview failure as evidence of graduates' inability. Additionally, students can not use foreign language and IT although they had have four-year studying in universities.
In developed countries like Japan and German, the rate of labor receiving re-training is 11 percent while that in Vietnam is 90 percent. Enterprises considered re-training is inevitable provided that young students must take it seriously and attach to company.
Managing director of VietnamWorks Gaku Echizennya said that many companies are willing to pay VND15 million (US$ 672.6) monthly for an inexperienced yet skilled graduate. There have been 21 positions with salary from VND15.7 million to VND22.5 million a month for newly graduated skilled students.