Electricity of Vietnam (EVN) reported that the rotor of turbine No. 3 of the Lai Chau hydropower plant was installed successfully at 10: 45 am on September 6.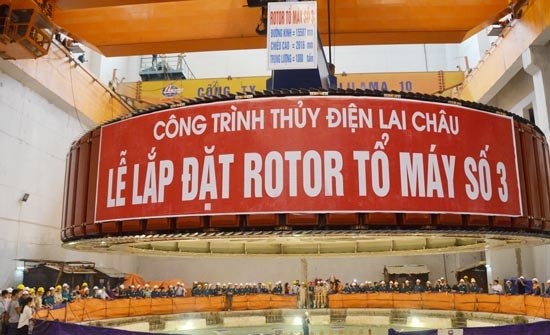 The rotor of turbine No. 3 of the Lai Chau Hydropower Plant (Photo:SGGP)
The rotor of turbine No. 3 was designed weighs 1,000 tones and measures 15, 587 meters in diameter and 2, 816 meters in height.
Before the rotor installation, constructors also completed installation of turbine, stator and bridge crane and other relevant equipments because these will be the important progress for experiment of Lai Chau hydropower plant in November, 2016 as well as its inauguration by December, 2016.
Electricity of Vietnam asked Management Board of Lai Chau Hydropower Plant Project and constructors re-controlled detailed agreements to ensure the remaining works.
Lai Chau Hydropower Plant will be put into the operation with its capacity of 1,200 MW, and provide over 4,670 million KWh of electricity to the national grid year on year.