Affected by the global recession, many companies in Ho Chi Minh City industrial parks and export processing zones have seen business slow down dramatically. Many have had to shut down or lay off employees, throwing workers' lives into turmoil.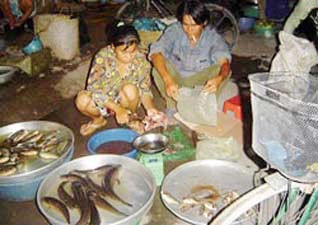 Diep and her husband, workers who migrated to HCMC a few years ago, now sell fish from dawn to night to survive after losing their jobs as the economic meltdown hits companies in Vietnam (Photo: SGGP)

Le Thi Duyen, six months into her pregnancy, pedals a bicycle under the burning sun to the Labor Federation of Hoc Mon, an outlying district, to seek help in claiming her unpaid wages and other allowances, including pregnancy welfare.

Several days ago she and her colleagues learnt that their company, Youg Sheng Co., was reducing its labor force due to slowing business. She was among hundreds of workers made redundant with no immediate payment from the company.

After moving to HCMC from the southern province of Can Tho six years ago, Duyen and her husband rented a house to live with their three-year-old child. Her husband works as a mason. 

Duyen happily expected to get a Tet bonus before delivering her second child. But things changed abruptly as she entered the army of jobless.    

In the same boat is Nguyen Thi Thu Ngan, who has turned to selling cakes at a market to survive. One day, on receiving a message from her former colleague, she put aside her business to join others to make a claim for their unpaid money.

Holding her baby, Ngan said in tears: "The other day I was told the company promised to pay the 13th month's salary for employees who worked 12 months and a Tet bonus to those who worked for four years. I would have got about VND10 million (US$600).

"Such an amount means so much to us, you know…"  

Days of toil

Since Vina Haeng Woon Industry Co., Ltd. based in District 8 shut down and the director absconded, Tran Van Danh and her wife have been selling fish to make ends meet.

Without having money for capital, the couple had to borrow money at an exorbitant interest rate of VND40,000 per day.  

They get up at 4 am every day. Danh rushes to the market on his bicycle to buy fish, while his wife, Diep, does things at home before leaving their one-year-old child at a neighbor's.

When Danh brings the fish home, they push the bicycle with a fish basket on it to a local market. They borrowed the bicycle from a relative.

Leaving her at the market, Danh goes to nearby ponds to catch small fish and shellfish. "If I catch a large quantity, we sell them. Otherwise, I take them home to eat," Danh said with a sad smile.

In the afternoon, Diep moves to another market to continue selling the fish to workers until 9 or 10 pm.

Despite toiling all day, they earn just enough to pay interest on the loan and buy milk for the baby.    

If the company had not shut down and they had got paid, they could have thought of a trip home to Tien Giang province for Tet.

Their simple dream has been shattered.  

Bui Thu Linh and Huynh Nhu, also from Tien Giang Province, face a similar plight. After being laid off, the two young women borrowed VND1.5 million to begin a new job selling stuffed animals.

"We are wandering around when we saw many people arranging stuffed animals on pavements. It gave us the idea," Linh said.

In the day, they hawk at the Phu Lam roundabout and at night, they move to Ten Lua street in Binh Tan District.

On a lucky day, they earn a profit of VND100,000, but there are also days when they do not earn enough even for food. Very often they return home only at 11 pm.

"With Tet approaching, we are trying to earn enough money to return home. If we do not, we have to stay here," Nhu said.

"Our future plans have to be left for after Tet," they said. Most laid-off workers we met are sadly in the same situation.