Parts of Highway 6 in Dong Bang Commune of Mai Chau District in the northern province of Hoa Binh remained cut off on Saturday even as rescue efforts continued for the fourth day to find two persons buried under the debris.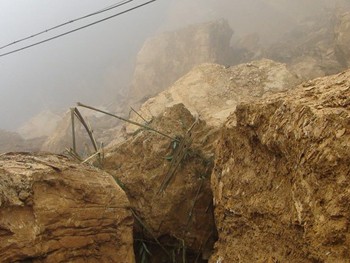 Huge boulders and rocks have fallen from the mountain on Highway 6 (Photo: VNA)
According to the Ministry of Transport, although authorities have deployed teams of workers to dig through thousands of cubic metres of debris to look for the two buried persons, it seems a losing battle as mounds of rock and soil continue to slide down. Thick fog in the area is also restricting visibility.
Ministry of Transport officials and the provincial People's Committee have surveyed the area and have decided to use dynamite to blow up large boulders and rocks, so as to clear the highway for traffic.
While clearing the landslide debris a drilling and excavating machine got buried, as soil and rocks continued to slide.
However, rescue teams will continue to look for the buried persons while also clearing the highway for traffic.
Mai Chau District has offered an initial compensation of VND3million to each of the victim's families.