Landslides continued to occur in Long Hoa Market in Binh Thuy District of Can Tho City on June 4, causing the collapse of tens of meters of land along the Binh Thuy River.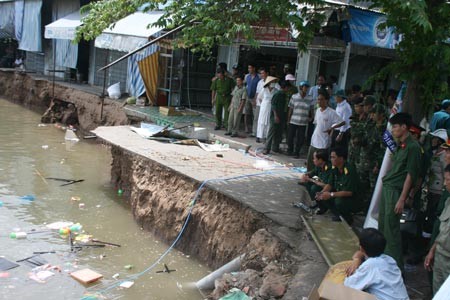 Scene of the landslide at Long Hoa Market in Binh Thuy District in Can Tho Province.
Though no casualties were reported, there is a definite threat to the Rach Cam Bridge.
Nguyen Tan Duoc, Chairman of the People's Committee of Binh Thuy District asked Long Hoa Ward and Binh Thuy District authorities to inspect landslide-prone areas and evacuate residents to safety.
He also said that local authorities must control traffic on the Rach Cam Bridge.
The city has witnessed three landslides between April 24 and May 5, which have caused severe damage. The latest landslide on Monday caused 12 food and vegetable shops in Long Hoa market to slide into the river.
The earlier landslide had killed two people, injured five and caused damage of hundreds of millions of VND.
 
Following the incident, local authorities have shut down the market, evacuated residents living around it and arranged temporary location for business to continue.