Rains have abated in the central province of Quang Nam but landslides still mar the mountainous districts, making it difficult for traffic to access the area.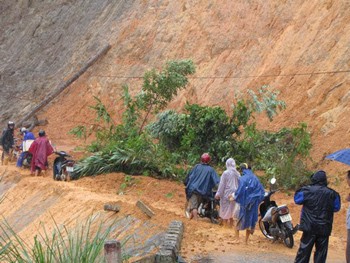 Landslide debris blocks traffic on Road DT 616 from Tam Ky town to Nam Tra My District in Quang Nam Province (Photo: Dantri)
According to Le Ngoc Kich, deputy chairman of the People's Committee in Nam Tra My District, landslides have blocked traffic along Road DT616 and some stretches near the Song Tranh 2 and Ta Vin hydropower plants.
Road route from Tac Po town to Tra Van, Tra Vinh, Tra Don Communes is heavily muddy and slippery. Sections in Tra Mai Commune are covered with 47,000 cubic meters of debris soil.
The suspension bridge spanning across the Vang River in Tra Kot Commune of Bac Tra My District has been washed away, isolating over 400 local residents.
14 kilometers of the main road connecting Tay Giang District to the mountainous communes of Tr'Hy, A Xan, G'ry and Ch'um are completely cut off due to mud slides.
Bh'Ling Mia, chairman of the district People's Committee said that traffic on this road has been congested for over three months and the district is finding it hard to transport 40 tons of rice to help people in four of the remote communes.