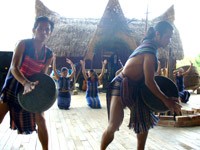 Languages of Viet Nam's ethnic minorities are preserved (Photo: TC)
The alphabets, accent marks, vocabulary, pronunciation and writing for Bana Kriem, an ethnic minority in Vinh Thanh district, Binh Dinh Province, were created by PhD. Ta Van Thong and his assistants.
A conference on the Bana Kriem language, attended by researchers and village patriarchs, was also hosted to seek contributive opinions and ideas in preparation for the official publication.
The Bana Kriem language will be popularized among officials and party members in the district when the research finishes.
Linguistic development plays an important role in preserving and improving the culture and language of Bana Kriem people.