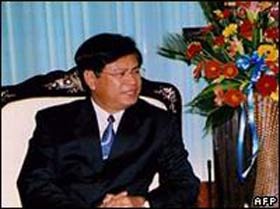 Laotian Prime Minister Buasone Bouphavan will visit Viet Nam from August 29 to 31.
In the name of continually expanding relations, Laos' prime minister will pay a friendly visit to Viet Nam from August 29 to 31 at the invitation of the Vietnamese prime minister, announced the Ministry of Foreign Affairs Friday.
Meetings between Laotian Prime Minister Buasone Bouphavan and Viet Nam's PM Nguyen Tan Dzung are expected to further strengthen ties between Viet Nam and Laos in light of the successful Congresses of the two countries' Parties.
This is the first working visit to a foreign country for new Prime Minister Bouphavan.
Viet Nam and Laos have flourished remarkably together over the past five years. The two sides have frequently exchanged high-ranking delegations and recently agreed on a legal framework to intensify and develop multi-lateral collaborative efforts.
Two-way trade turnover has reached about US$687.8 million so far this year.
The two sides have carried out measures to encourage trade and cross-border investment. Viet Nam has invested US$500 million in 69 projects in Laos relating to agriculture, forestry, mineral exploitation, electricity and transportation.
The two sides have also cooperated in education and training, medicine, agricultural and rural development, infrastructure construction and especially in security and defence.