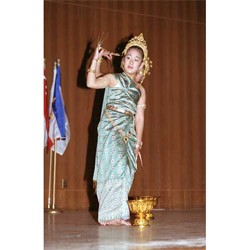 Lamvong - a Laotian unique dance
Delegates of Lao People's Democratic Republic leaded by Mr. Mun Keo O La Bun, Minister of Information and Culture paid a visit Ho Chi Minh City on April 1, 2006
.
The two sides exchanged experiences in managing activities of information and culture.
During three days in Ho Chi Minh City, the delegates will have working visits to some city's cultural units.
On the evening of the same day, the delegates visited and discussed with the Youth Cultural House about current programs attracting young people, such as clubs, playgrounds in order to improve their awareness of and responsibility for the country's development.
The Minister compliments the enthusiasms of the city's young people on supporting Laotian students studying in Ho Chi Minh City and looks for stronger cultural exchanges between the two countries.