After a nine-day search, the last missing body was recovered from under the landslide at the Phan Me landfill dumping site in Thai Nguyen Province at 6am this morning, April 24.
Truong Manh Kiem, vice chairman of the People's Committee of Dai Tu District, said that though the body had begun to decompose, the victim was still recognisable.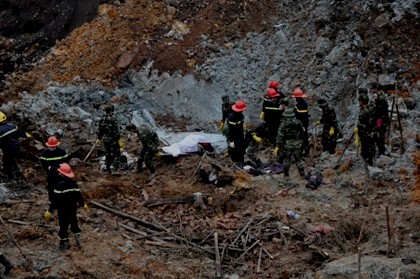 At the site of the landslide (Photo Dan Tri)
Assisted by modern equipment, tracking dogs and foreign experts, four other bodies were found yesterday and one was pulled out on April 15, the day of the accident. One other person was injured when debris fell from the landfill site.
The names of the victims are Nguyen Minh Hoan (born 1962), Nguyen Van Ha (born 1968 and younger brother of Hoan), Nguyen Van Quoc (born 1991, son of Hoan) and  Nguyen Van Quan (born 1995, second son of Hoan) and Tran Thị Thien (born 1959).
Officials said the bodies had broken into pieces and rescue workers were still searching for missing body parts.
A funeral ceremony is expected to be held this afternoon.
Meanwhile, another accident occurred at the dumpsite of the Nui Hong Mining Cooperation in Thai Nguyen Province, killing one person. Li Ngoc Kinh, (born 1971) was a worker of the coal exploring factory and was killed when a mound of soil fell on him while driving a bulldozer to the dumpsite. Kinh and the bulldozer fell into a waterhole and Kinh drowned instantly.