Vice President Truong My Hoa unveiled a bronze statue of late general Nguyen Thi Dinh in her home province of Ben Tre yesterday.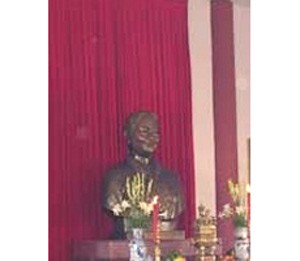 The bronze statue of Nguyen Thi Dinh stands in a temple in the grounds of the general's memorial
Donated by the Defense Ministry, the 1.75-meter statue weighing 1,025 kilograms stands in a temple in the grounds of the general's memorial in Phong Dien, her village in Luong Hoa Commune, Giong Trom District.

At the unveiling ceremony, the statue was described as a significant gift from soldiers to express their gratitude to and admiration for the sole female general of the Vietnamese revolutionary armed forces.

In Vietnamese people's hearts, General Nguyen Thi Dinh remains a potent symbol of Vietnamese women and was well deserving of the description tendered by the revolutionary leader Ho Chi Minh "Heroic, undaunted, loyal, responsible."

Ba Dinh, as she was affectionately known, was born in 1920 and joined the resistance movement at the age of 16. She played a vital role in the 1960 uprising in Ben Tre.
As a leader of the revolutionary movement, the general instilled courage in her comrades so that they could fight the enemy, protect their land and foster the revolution.
Nguyen Thi Dinh did everything that was asked of her and united cadres and soldiers. In May 1960, at the age of 40, she was made secretary of the Ben Tre Party Committee.

In the war against the U.S., she was the deputy commander of the southern Army of Liberation.

After the war ended in 1975, she was in turn Deputy Minister of Labor, Invalids and Social Affairs, Chairwoman of the Vietnam Women's Union, and Vice President of the People's Council.

She died in 1992.