A message from Ho Chi Minh City residents to a National Assembly sitting starting on October 17 is that the law must punish all corrupt officials no matter who they are, still in office or retired, and that public concerns about other issues should be addressed promptly.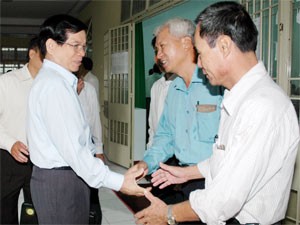 President Nguyen Minh Triet (L) meets with Ho Chi Minh City dwellers to collect their proposals, suggestions (Photo: Viet Dung)
Many city dwellers have complained to the city's NA deputies that when breaking the law, officials are disciplined lightly.

They raised objections against the explanations, if any, that failure to crack down on corruption results from an absence or lack of suitable regulations or mechanisms.
The dwellers expect the Fatherland Front Committee of Viet Nam to launch many public campaigns to denounce corrupt officials. They want officials' salaries to be paid via banks so that officials' property can be transparent.
The city residents want the National Assembly sitting to focus on problems related to polymer banknotes, State-owned houses allocated to high-ranking officials. The National Anti-Corruption Committee, which made debut early this month, is expected to take prompt actions.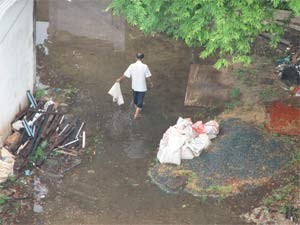 Inside a poor-managed land area in Ho Chi Minh City (Photo: TC)
Land-related problems
Besides, many dwellers want the National Assembly to inspect poor land management nationwide in general and in Ho Chi Minh City in particular.
In a meeting with NA deputy Truong Tan Sang, many people from the city's District 1 said massive complaints about poor land management result mainly from the fact that compensations for the people's land are not appropriate, and there is not a new living place for them after their houses were cleared away for socio-economic development projects.
Related Article:
Corruption Fighter Makes an Entrance