Students are an important social force and the future intellectuals and skilled workers, and it is their obligation towards their family and society to study well and improve their knowledge and morality, National Assembly Chairman Nguyen Phu Trong said.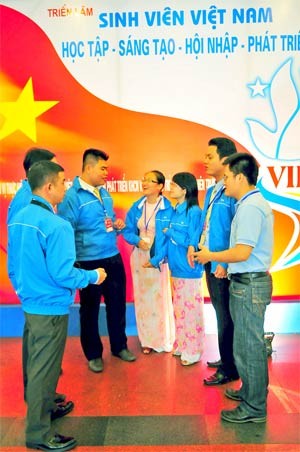 A group of students at the ongoing 8th National Congress of the Vietnamese Student Association, which opened in Hanoi on February 15. (Photo: SGGP)
He was speaking at the 8th National Congress of the Vietnamese Students' Association (VSA), which opened in Hanoi on February 15 with 650 student representatives taking part.

Also attending were former Party leader Do Muoi, former presidents Le Duc Anh and Tran Duc Luong, former NA leader Nguyen Van An, president of the Viet Nam Fatherland Front Central Committee, Huynh Dam, and leaders of many other agencies.

Addressing the congress, Mr Trong hailed the VSA's achievements and said it should step up work to improve students' political awareness, patriotism, and revolutionary virtue, and encourage them to adopt new and effective methods of learning. 

The VSA said that in the spirit of its motto "Study, Creativity, Integration, Development," it aims to encourage its members to study hard and engage in voluntary activities.

Mr. Trong, on behalf of the Party and State, presented the VSA a Party Central Committee wall hanging with the slogan: "Vietnamese students follow Uncle's Ho teachings and develop their morals and talents to build a strong nation with wealthy people, and a just, democratic and civilized society."

The association has had around 700,000 members of which more than 22,000 have since been admitted to the Party.

The agenda of the congress February 16th includes presentations by student representatives and the election of a new executive board for the association.