The Ministry of Industry and Commerce yesterday said that the leather and shoe sector will not achieve its 2007 export targets due to ongoing operational obstacles, especially lack of workers.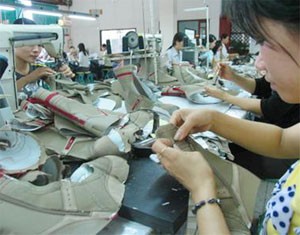 A shoe factory in Binh Duong Province

Based on demand trends for clothes and shoes for the year-end holiday season, leather and shoe manufacturers should be at peak production now.

Unfortunately, due to a shortage of workers, they have only been able to manage a modest volume of contracts. Consequently, the sector's export turnover for November is estimated to reach only US$320 million, equivalent to that of last year.
According to a Ministry of Industry and Commerce, since the beginning of the year, the country's leather and shoe sector has exported US$3.53 billion, an increase of 9.5 percent compared with the same period of the previous year.

To achieve the sector's 2007 target, US$4 billion, the industry will have to export US$500 million of leather and shoes in December, a task considered beyond its capabilities this year.