At the National Assembly Standing Committee's three-day meeting that began in Ha Noi yesterday, NA Vice Chairman Nguyen Phuc Thanh suggested having a specialized television channel to broadcast NA sittings.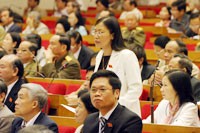 A NA deputy raises her opinions at the question-and-answer session

"The NA is moving toward a public and democratic way of working. I think we should have a specialized TV channel for the NA," Mr. Thanh said.

His proposal received support from NA Chairman Nguyen Phu Trong and other legislators. "It's a good idea and we should consider it," Mr. Trong said.

Yesterday the committee evaluated the outcome of the NA's tenth sitting, prepared an agenda for the next, and gave opinions on the work schedules for 2007 and several ordinances.

The committee praised the tenth sitting of the eleventh National Assembly for its "democratic, open and effective working style."

The NA is scheduled to next sit from March 20 to April 7, 2007. Among their many tasks, the deputies will "examine reports on the supplementary appraisal of the implementation of the State budget tasks in 2006 and draw up a budget estimate for 2007."

Legislators and voters apparently spoke highly of the democratic and open manner and responsibilities of state leaders.

However, Director of the NA Office Bui Ngoc Thanh said his constituents were not satisfied with the answers provided by some cabinet members, particularly those from Chief Judge of the People's Supreme Court Nguyen Van Hien.

Some NA standing members proposed that question time be expanded.