Border guards live quiet and simple in the pure wilderness of Nghe An's hinterlands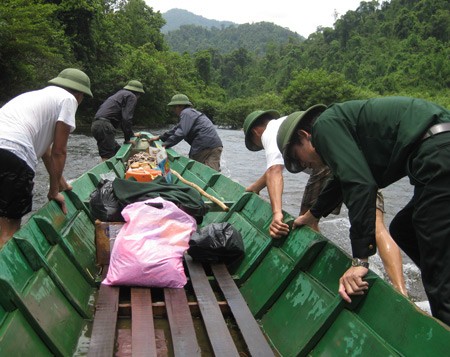 Soldiers push a boat across the Giang River in the central coast province of Nghe An (Photo: SGGP)
It takes a day's hike through mountain forests and across arduous cliff-top trails to get to Co Phat Village in good weather. If you go by boat, it takes four hours along the dangerous rapids of the Giang River if the waters are calm enough.
 
Out here in the north-central province of Nghe An near Laos, nature has been left powerful and undisturbed.
 
Once you leave the center of Mon Son Commune, located along the province's main highway, its only jungle, dirt roads, rough rivers and bushwhacked paths.
 
If you make it to Co Phat, a local border guard post is hardly imposing. Located deep in the forest outside the "village" proper, it's really no more than a hut.
 
At best, it looks like an abandoned saw mill, with two large saws out front. The soldiers there use the saws to cut timber and build homes for local people.
 
They are not obligated to do so, but they've become close with the local Dan Lai ethnic minority community and do what they can to help impoverished farmers that have no access to better educations, equipment or livelihoods.
 
Perilous journey
 
Though the 17-kilometer slice of the Giang that leads to Co phat is clear and looks calm, it's rugged rock-tops and powerful whirlpools have cut many lives short.
 
Two soldiers drowned in the river in 2007 as they tried to rescue local residents from floods.
 
Before that, soldier Nguyen Dinh Thanh, 23, sacrificed his life in the river in 1996, while he guided a team of reporters to the post.
 
Even the most experienced boatmen have trouble steering on the Giang, and often end up on the rocks at least once during a trip. Motor propellers are often broken and passengers and captains alike often have to get out in shallow water to push the boat.
 
Propellers are replaced frequently on the trip. One local captain said he once had to get out and push his boat 74 times on one journey.
 
Roughing it
 
The post's five soldiers take turns patrolling the borderlands and sawing wood to build houses.
 
The village doesn't have power, roads, schools, internet, markets or relations with the rest of Con Cuong District, home to 3,000 Dan Lai people.
 
It is scorching hot, but the post has only a small fan run by hydroelectricity. If the soldiers want to run the fan, they have to turn off the light. If they want to watch television, they have to turn off both the fan and light.
 
Their 14-inch black and white TV takes up all the power they have. The antenna signal is only strong enough to watch for about an hour per day at most. 
 
The lack of transport infrastructure means that there almost no modern goods make it Co Phat, and those that do are expensive.
 
Local Dan Lai resident La Van Long said it costs about VND700,000-1,500,000 to hire a boat to go from the center of Mon Son Commune to the village. A boat can carry about six people with a few goods.
 
On average, traveling a kilometer by boat costs nearly VND100,000. Transporting 100 kilograms of rice costs VND100,000-300,000.
 
A bag of cement sells for VND60,000 in the commune's center, but runs for VND120,000 in the village.
 
Neither the soldiers nor most villagers have that kind of money.