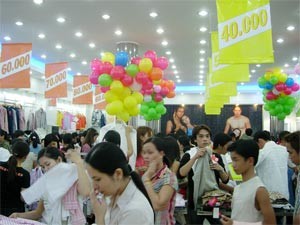 Shopping - A favorite activity amongst the Vietnamese youths (Photo: Hoang Uy)
"Similar to young people in other Asian countries, Vietnamese youths tend to favor fancy motorbikes, mobile phones, laptops, iPods and fashion" said Nicole Vooijs from the media firm Mindshare at the Ho Chi Minh City seminar on Viet Nam's Marketing for 2007 – "Challenge and Opportunity".
She added that young local people focus on brands and items that reflect their lifestyle when shopping.
According to the firm's survey, 68% of local youths said they buy brand-name goods, while 78% accept higher prices for high-quality products. In addition, over 70% flick through magazines and newspapers for information, advice and advertisements about shopping and services.
Instead of watching TV, enjoying music and reading, many choose to spend their leisure time driving around the city, playing sports and games, and surfing the Web. Local teenagers are becoming more interested in digital products, such as cameras and MP3 Players, which are making traditional media facilities less popular.
Another survey showed that 52% of Vietnamese youths access the Internet at least once a week, a 20% increase from 2002.
Supermarkets, shopping malls, cinemas, cultural centers and stadiums are amongst the favorite haunts of the local youths. However, foreign forms of entertainment, such as skating, playing basketball and hip-hop dancing are gradually becoming more popular.
The country's population is very young; the average age is just 24. At this age, people favor challenges (56%), adventures (39%), and playing sports to keep fit (58%).