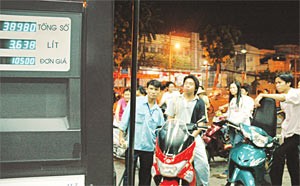 At a gas station in Ho Chi Minh City on 6th October. Petrol A92 drops to VND10,500
Owing to the fall in global crude oil prices in September, the local petrol retail price dropped VND500 per liter, according to a decision of the Ministry of Trade (MoT) yesterday.
Accordingly, A92 petrol is VND10,500 per liter, A90 VND10,300 per liter and A83 VND10,100 per liter.
The global crude oil price has sharply dropped to US$58 a barrel, the lowest price ever over the past 8 months.
According to concerned agencies, with prices at these levels, businesses trading in fuel still make a profit between VND700 and VND1,000 per liter.
In addition, the MoT instructed local fuel-trading enterprises and transport service providers to adjust their prices accordingly.