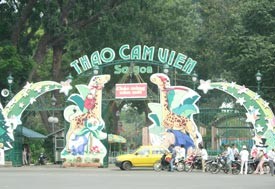 Saigon zoo (Photo:TC)

Japan's Fuji Safari Park is donating ten young lions and three kangaroos to Sai Gon Botanical Garden.

The cost of transporting the five male and five female lions, whose ages range from less than 12 months to three years, and the three kangaroos to their new home will be subsidized by the Ho Chi Minh City Department of Finance.

The newcomers are among a menagerie of wild animals that are being imported for Sai Gon Botanical Garden near the center of town and the planned Saigon Safari Park in Cu Chi District, Sai Gon Botanical Garden director Ms. Nguyen Thi Hien said.
To enrich its collection, this year the zoo is also buying two rhinos, four zebras and several antelopes, Ms. Luong added.