Vietnam's central coastal provinces have made many discussions of cooperation to boost the region's tourism but not much has been done. Tourism experts say a reason is localism.
"Localism is a big obstacle against cooperation effort," says Ho Viet, former chief of the central region office of the Vietnam National Administration on Tourism, who has made various studies on joint tours in the region.
According to him, authorities have discussed but failed to find out the answer to the question "Who operates?" because any of them wants to operate the tours to profit their towns first. Therefore, joint efforts do not bring about good results.
A representative of Vitours, a company arranging joint tours in the region, gives an example. Hue, Danang and Quang Nam are neighbors but have not seen effective cooperation.
"This is the easiest group to associate but they are still unable to make it. Now, other provinces with less tourism potential want to join them and this means it is even harder to do," says Vitours director Cao Tri Dung.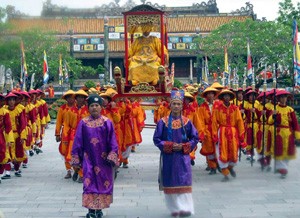 File photo shows a history performance during a Hue Festival.
Ngo Quang Vinh, director of the Danang City Department of Culture, Sports and Tourism, says, "Actually Hue, Danang and Quang Nam have jointly held activities over the past five years such as making publications, organizing introductions and promotion activities across the country with the 'three locations-one destination' spirit. But in operations, the team leaders worked out a common plan much later that the year plans of the three locations. Therefore, we've faces quite a few difficulties in working out a common program."
According to Japan International Cooperation Agency (JICA) research, the central region welcomes millions of foreign arrivals annually but the average stay in Hue, Danang and Hoi An is 1.5-2.5 days, and the average spending is US$76 a day/a person.
During a forum held late last year for the development of the seven central coastal provinces from Thua Thien-Hue to Khanh Hoa, the participating sides agreed that tourism be the first area to join efforts as each of the provinces holds potential. This cooperation has not been translated into reality.
Huong Giang Tourism Co. chairman Nguyen Quoc Thanh says the region is home to many beautiful beaches, beautiful bays, numerous islands, natural reserves, and has many cultural festivals. However, Thua Thien-Hue, Danang, Khanh Hoa and Ninh Thuan organized marine tourism festivals in June and July 2011 with similar activities and events. He says it was a waste.
A leader in need
Tour operators say that a "commander" is needed and the "commander" must be from the ministerial level to counter localism.
Ngo Hoa, permanent vice chairman of the Thua Thien-Hue Province People's Committee, deputy chief of the 2012 National Tourism Year for the north of the central region, says that Hue, Danang and Quang Nam need to join hands with Hanoi and Ho Chi Minh City in order to make the national tourism program success.
Dr. Tran Du Lich in Ho Chi Minh City says that in tourism, each locality has to offer its own products if it wants to win. For example, Khanh Hoa Province needs to make more investment for Nha Trang Sea Festival, and establish a tourism town. Phu Yen Province should focus on eco-tourism and culture, especially stone culture. Binh Dinh Province may boost eco-tourism and culture together with historical events. Quang Ngai needs to develop marine tourism, open tours to Cham and Ly Son islands. Quang Nam may focus on cultural heritage and leisure activities. Danang should be a tourism service hub. Thua Thien-Hue may concentrate on heritage culture, festivals, food, eco-tourism and should be a regional training hub.