Many experts backed the building of a road-rail bridge spanning the Hong (Red) River just 75m from the historic, but ageing Long Bien Bridge at a conference held on Tuesday.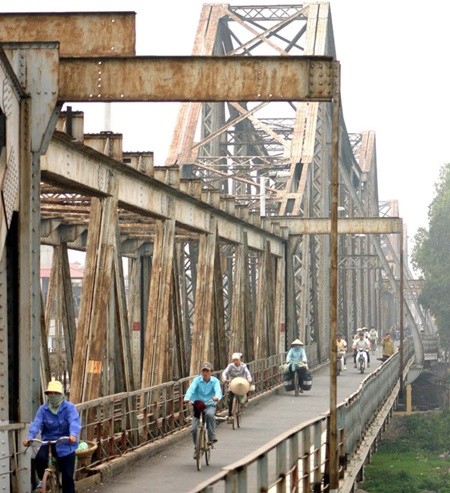 Long Bien Bridge, which crosses the Red River, is a symbolic image of Ha Noi. A road-rail bridge spanning the river may be built to preserve the iconic Long Bien Bridge — VNS Photo Doan Tung
The option was one of three proposed by consultants Transport Engineering Design Incorporated (TEDI). They said the new bridge would "preserve the iconic Long Bien Bridge".
Under the other two options, the new bridge will be built either 30m or nearly 200m from the old bridge.
Director General of TEDI Pham Huu Son said under these two options, it would be difficult to ensure traffic flow and required a huge volume of land clearance, which would be costly.
Regarding the first option, experts said the distance of 75m between the two bridges was far enough not to affect the surrounding architecture and not cause difficulties during construction.
Historian Phan Huy Le said this option was the most feasible. It would help preserve the Long Bien Bridge as well as reduce investment cost because it did not require much land clearance.
However, another historian, Duong Trung Quoc, said the construction must take into account various relevant factors, including the conservation of the Old Quarter, traffic convenience, and architectural harmony with the Long Bien bridge and the whole area.
Chairman of the municipal People's Committee Nguyen The Thao said any option taken to build a new bridge must compromise between preservation and development.
The committee would continue working with the transport ministry to collect more opinions from the public to choose the best option, he said.
Long Bien Bridge opened to traffic in 1902 and was the largest construction in French Indochina at that time.
The bridge was designed by the company of French Architect Gustave Eiffel of Eiffel Tower fame but the sweat of more than 3,000 Vietnamese workers over three years created the gigantic steel structure that undulates like a giant dragon across the river.
Profile of the bridge is being compiled for recognition as a national heritage.