The peak of rainy season arrives during all over Vietnam but water levels in reservoirs in hydro plants are still low, threatening to electricity supplies.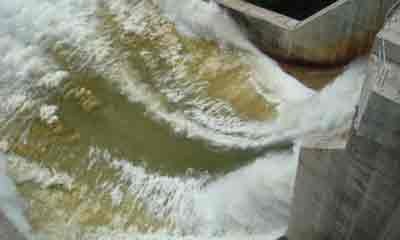 A Vuong plant reservoir lets water out last year, flooding lower courses of Vu Gia and Thu Bon rivers. This year, shortage of water in its reservoir threatens electricity supplies
Water level in A Vuong plant in the central province of Quang Nam was measured at 347.05m, lower than that in the same period of last year, said A Vuong Hydro-power JS Company's deputy head Le Dinh Ban.
A Vuong plant is operating at 90 percent of its capacity due to low water level. If water level lowers under 340 m, the plant has to stop operation. It is estimated the plant can only work until the end of September.
Around 58.7 cubic meter of water flowed into A Vuong reservoir per second this year while it was 163 cubic meter of water per second in 2009.

Mr. Ban hoped water level would increase as rainfall would double as expected in central Vietnam next days.
The situation is the same in other hydro power plants in the central provinces of Binh Dinh and Phu Yen. The plant in Binh DInh is operating at capacity of 120,000 kWh per day while it full capacity is 160,000 kWh a day. If water level remains unchanged, the plant has to halt.
Worse, water level in the reservoir of the Hinh River hydro power plant is just 0.89m higher than the dead level. The plant generates around 840,000 kWh but it will stop supplying electricity next week due to shortage of water in its reservoir.
The Vinh Son hydro-electric plant, which generates 1.5 million kWh, said it would stop in next ten days with the same reason.