Though demand for goods for the upcoming Lunar New Year (Tet in Vietnamese) is estimated to climb by 30% over the last year, there should be no shortages as wholesalers and retailers have been stocking up. Prices, however, might go up, noted the Ministry of Industry and Trade.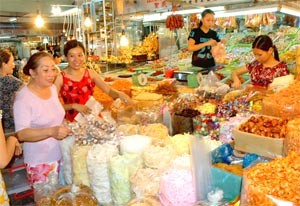 This Lunar New Year will not be short of goods, but prices will be likely to soar
Ha Noi is forecast to consume 9,000-10,000 tons of pork and 1,800-2,000 tons of beef and other goods worth VND6.5 trillion (US$406 million) over Tet.
 
The Vietnam Northern Food Corporation has prepared 177,000 tons of rice and wheat flour.
The Ha Noi Trading Group and its members have stocked 240 tons of various meat, 800 tons of processed foods, 100 tons of vegetables, 200 tons of sweets, 600 tons of cooking oil, 65 tons of monosodium glutamate, and 160 tons of sugar.
 
Down south, Vietnam Southern Food Corporation has stored 750 tons of rice and 3,600 tons of dried noodles and macaroni.
 
Saigon Trading Group has stocked 7,000 tons of pork, 540 tons of beef, 3,540 tons of processed foods, and 1,700 tons of seafood. The Ho Chi Minh City Cooperative Alliance has stored 660 tons of rice, 1,260 tons of processed foods, 230 tons of seafood, 700 tons of vegetables and 920 tons of sugar.
 
Supermarkets like Metro, BigC, Intimex and Fivimart have piled up essentials for Tet worth some VND400 billion (US$25 million), 20 percent more than last year.
 
The MoIT said that while cities and provinces have stocked sufficiently for Tet, the prices suppliers will ask may become worrisome. After meetings between the ministry and suppliers, no supplier would assure price stability.
 
Hoang Tho Xuan, head of the MoIT's Domestic Market Policy Department, said prices are likely to keep soaring from now to Tet, especially food prices.
 
Pork, vegetables, dried foods, cooking oil and rice have gone up by 5-15 percent and soft beverages, frozen and processed foods, and sweets by 10-20 percent.
 
A new report from the ministry revealed food prices will hike sharply during the first two months of 2008.
 
Dr. Ly Minh Khai from the General Statistics Office said the Consumer Price Index (CPI) will continue to increase dramatically, even higher than previous years, in January and February.
 
He said February's CPI might rise to the record high because the Tet holiday will be on the first week of the month. If January's CPI is forecast at 1.2-1.5 percent, February's may jump 2.5 percent.
 
The ministry has suggested Government direct the Ministry of Finance to take appropriate measures to help enterprises get loans at preferential interest rates for the storage of goods to stabilize prices.
 
However, Le Ba Lich, Chairman of the Animal Feed Association, said it is hard to keep prices stable till Tet, particularly meat and eggs, because epidemics and natural calamities continue to occur.