The Petro Vietnam Fertilizer and Chemicals Corporation will award the Luong Dinh Cua Prize 2011 to 300 young farmers of North, Central and South Vietnam for their outstanding contributions in agricultural techniques and use of advanced technologies.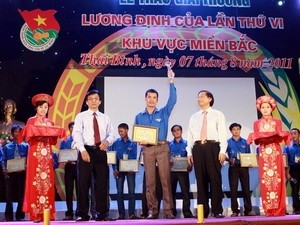 Award ceremony held in the North on August 7 ( Photo: Vietnamplus)
Petro Vietnam Corporation has played a vital role in supporting farmers and has sponsored the prize for the last six years, awarding a sum of VND3 billion to the prize winners.
The main aim of awarding the prize, named after the late agronomist Luong Dinh Cua, is to honor young farmers who have made great contributions in the field of agriculture.
Award ceremonies for the prize will be held in the northern province of Thai Binh on August 7, the central province of Da Nang City in September and the southern province of Vung Tau in late October. Each region will be represented by 100 outstanding farmers for the prize.
The prize was first launched in 2006 and drew the participation of many young farmers. Until now, nearly 500 young farmers between the ages of 18 to 35 have been awarded the prize for their outstanding work in farming techniques.