Hong Kong's Royal Group is cooperating with Sea Star Corp. to provide luxury cruises between Vietnam's Phu Quoc Island and the Cambodian resort town of Sihanoukville. Hours after announcing the new service, Sea Star Corp. CEO Huynh Van Son spoke to SGGP about the project.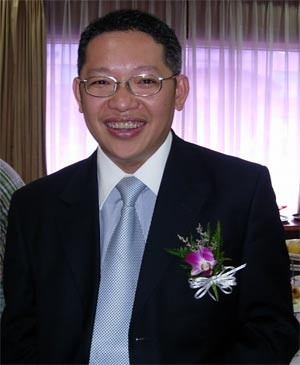 Seastar Corp's CEO Huynh Van Son (Photo: Truong Son)

Could you share some information about the route?


Well, our cruise is not yet open to the public but has been running on a trial basis since November 2. We expect to begin daily cruises on December 15 to satisfy the demand of travelers.  
So what is the role of the Royal Group in this project?


Well, Sea Star signed a business contract with Royal Group. According to terms of the contract, Royal Group will use their cruise ships on Vietnamese sea routes. Jupiter is the first vessel and three more vessels will follow soon. All are high-class cruise ships.  
You mean that the cruises are five-star?


Yes, all the cruises passed the requirements of the International Cruise Association to be listed as five-star cruises. With a length of 178 meters and width of 22 meters, the nine-floor Jupiter cruise can serve 1,000 guests at once, with various luxury facilities like a disco and night club, Ocean Star Karaoke, Rosedale Sauna and Spa, a beauty salon and also a duty-free shopping section. Our guests can enjoy traveling in luxury. We also offer a blissful and unique wedding onboard. The cruises promise to bring new experiences and joy to passengers. 
Why do you have to wait until December 15 to open the route to the public?


At present, our cruise has to dock at the Duong Dong fishing port in Phu Quoc, about one mile away from land. But this port has not yet satisfied our standards for a passenger port. At present, we are awaiting approval from the officials at Phu Quoc for our proposed renovation project. As soon as we receive the approval, we will try our best to speed up the basic infrastructure at the port in order to serve our guests in middle of December. We also expect to develop this port into an international standard passenger port in future.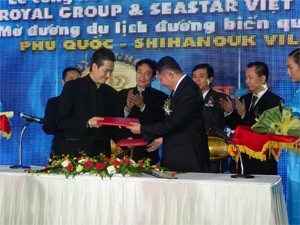 Mr.Huynh Van Son and the Royal Group's CEO Sam Lam Dao Long(R) at the contract signing ceremony (Photo: Truong Son)

Woah, there seems to be a lot of things to do! So why didn't you choose another place with better infrastructure? Why did you choose the Phu Quoc as the departure place for your cruise?

First of all, as you know, both Phu Quoc and Sihanoukville are incredibly beautiful places. Secondly, Phu Quoc and Shinanouk Ville are close enough to other places so we can offer side-tours for our guests. Guests arriving at Phu Quoc can enjoy a side-trip to Can Tho or Ho Chi Minh City by plane. From Shinanouk Ville, guests can travel overland to Phnom Penh or Siem Reap.  
So you mean you can organize extra land tours for your passengers, right after they leave your cruise?


Yes we will. Moreover, we expect to hold sea tours for them, if the demand emerges, to other places in Vietnam like Nha Trang, Ha Noi and Hai Phong or even overseas destinations in Thailand and Malaysia.  
Who are your target customers?


We are aiming our service at tourists who expect to enjoy high-class services during their travel. We also welcome businessmen on this trip since the Phu Quoc to Sihanoukville route provide a good business link between Vietnam and Cambodia. It only takes three hours of travel. 
What are the advantages and disadvantages for this new service?


The advantages are that there is no visa required for travelers going between Vietnam and Cambodia. Vietnam is also seen as the safest place in Asia for tourists. Meanwhile, the disadvantage is that we are setting a new sea route and we are probably facing various difficulties in the process, from setting up the infrastructure, calculating the route distance and price and marketing. Moreover, the infrastructure of the fishing port at Phu Quoc is quiet bad.  
Basing on advantages and disadvantages above, and also the business strategy, can you estimate how long you will make your route become popular?


I believe that we only need a year to make it a best-selling route.  
Related article:

Luxury liner celebrates its first voyage