The chief executive of the Macao Special Administrative Region (MSAR), Ho Hau Wah, started a five-day official visit to Viet Nam on Monday.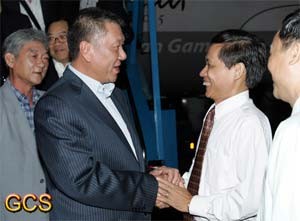 Mr. Ho Hau Wah (in suit) is welcomed at Noi Bai Airport near Ha Noi early Monday (Source: MSAR Government Information Bureau)
During his stay in Ha Noi, Mr. Ho is scheduled to meet with Viet Nam's Deputy Prime Minister and Foreign Minister Pham Gia Khiem.
He will also pay courtesy calls to other high-ranking officials, according to a press release from the MSAR Government Information Bureau.
The bureau quoted him as telling the press at the airport before departing for Ha Noi that both Macao and Viet Nam hoped that his visit would enhance relationship and facilitate bilateral cooperation in different areas.
He reportedly said Viet Nam was interested in entering the markets of the Portuguese-speaking countries by using Macao as a business platform.
From Ha Noi, Mr. Ho and his delegation are to visit the scenic Ha Long Bay, Da Nang City, Hoi An Ancient Town and Ho Chi Minh City.
Moreover, the Macao Government Tourist Office and the Macao Trade and Investment Promotion Institute would hold several events to promote Macao's tourism and exhibition industry to the Vietnamese business sector.
At the same time, a delegation of about 80 Macao business people will attend several business seminars with counterparts in Viet Nam to explore more business opportunities.
These activities are part of the 'Macao Week in Viet Nam', which will take center stage in Ho Chi Minh City. The 'Macao Week' will also include artistic performances in the city.
In early September, the first international flight was inaugurated between Macao and Hai Phong, a port city in northern Viet Nam, making traveling easier.
Related link
MSAR Government Information Bureau