Macao Week in Viet Nam, staged in Ho Chi Minh City from Wednesday to Sunday, includes numerous activities that Macao hopes will promote its tourism and business links with the Vietnamese people, the Macao Government Tourist Office announced here on Tuesday.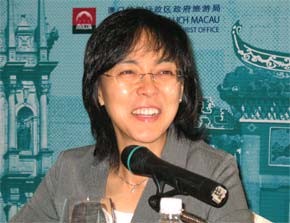 Ms. Maria Helena Fernandes at Tuesday's press conference for Macao Week in Viet Nam (Photo: Tuong Thuy)
Maria Helena Fernandes, deputy director of the office, told reporters that the chief executive of the Macao Special Administrative Region, Ho Hau Wah, would be attending the opening ceremony of the event from 5 pm on Thursday in Bach Tung Diep Park at the corner of Ly Tu Trong and Pasteur streets in District 1.
A scaled-down model of A-Ma, Macao's oldest temple, is being erected at the park entrance.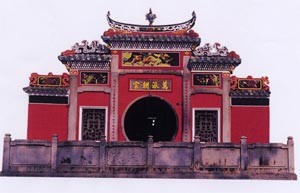 A-Ma Temple, the oldest in Macao (Photo: Macao Government Tourist Office)
Ms. Fernandes said more than 100 people would take part in the activities at different venues in the district. (See below) 
Also on Thursday, the Macao Trade and Investment Promotion Institute will hold a seminar titled Ho Chi Minh City - Macao Investment & Tourism Development at the Sheraton Saigon Hotel & Towers.
Macao Chief Executive Ho is visiting Viet Nam from Monday to Thursday to enhance relations between Viet Nam and Macao. In Ha Noi on Monday, he announced a donation of US$500,000 for the victims of Typhoon Xangsane, which wreaked havoc in central Viet Nam early this month.
Ms. Fernandes said the two sides had signed a memorandum of understanding in Ha Noi to promote cooperation in tourism development and facilitate business ties in general.
A fact about Macao: In July 2005, UNESCO declared the Historic Center of Macao as a World Cultural Heritage Site, the 31st in China.
Macao Week Activities 

Bach Tung Diep Park
•  Photo Exhibition
•  Distribution of promotional materials
•  Macao Tourism Ambassadors
•  Chinese orchestra, lion dance, folk dances, handicrafts display
Tax Shopping Center
•  Distribution of promotional materials
•  Playing of Macao video on TV bank
•  Macao Tourism Mascots
•  Chinese orchestra, lion dance, folk dances, handicrafts
Macao Night, October 12, Caravelle Hotel
 18:00 Cocktail Reception
 18:30 Gala Dinner
Related article
Macao Chief Executive Visits Viet Nam