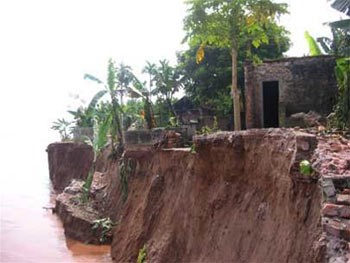 The place where 14 riverbank houses were swept away in Ha Tay.
One person is missing in Lao Cai in Viet Nam's northwest and another in Ninh Thuan on the lower central coast after rivers swollen by days of heavy rain burst their banks and flooded valleys and plains. On Wednesday the Da River in Lao Cai and the Thao River in Yen Bai rose to danger level before receding the following day, and the upstream section of the Red River rose even higher.
In Ha Tay southwest of Ha Noi, 14 riverbank homes were swept away by the turbulent waters.
More serious damage is reported in Muong Te District in the northern border province of Lai Chau, where some roads were up to four meters underwater for two days and the traffic jams extended for miles.
The roads along the turbulent Da River were the same, so transport came to a virtual halt. The person missing in Lao Cai was last seen in a boat that capsized near Coc Leu Bridge.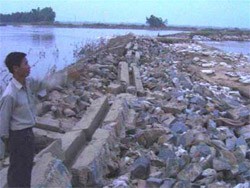 The breakwater near the mouth of the Vu Gia River in Quang Nam Provicne has sterted to break up.
In normal times this would be the dry season up north and the Red River would not be rising almost visibly. Now the Northern Hydrometeorology Station says the river should reach the six-meter mark at Ha Noi today and could peak at 8.3 meters tomorrow.
Collapsing banks along a 1,200-meter stretch of the Red River created holes as deep as 15 meters and huge open vaults called "frog's jaws".
On top of the 14 houses that were swept away in Ha Tay's Chau Son District, 30 homes are at extreme risk of falling into the river and more than that number are under threat, provincial chairman Nguyen Dinh Van said.
Down in Quang Nam on the central coast, a breakwater near the mouth of the Vu Gia River has started to break up from the damage caused by Typhoon Xangsane, threatening more than 1,000 homes and large areas of irrigated farmland.