Thousands of hectares of mangrove forests in the central coastal provinces have been replaced with resorts, leaving the province vulnerable to sea encroachment, experts warn.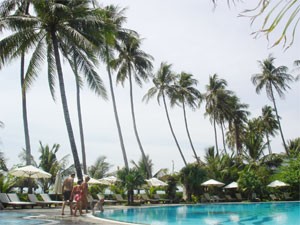 View of a resort in Da Nang City. Thousands of hectares of mangrove forests in central provinces are replaced with resorts (Photo: Minh Tri)
Nearly 40 kilometers of the coastline in Da Nang and Quang Nam were covered by mangrove forests 10 years ago. But the forests are replaced with huge resorts nowadays.
"I am so sad when witnessing tens-of-years-old trees were chopped down to make space for construction projects on tourist spots," says Huynh Van Thang, deputy director of the Da Nang city department of agriculture and rural development.
"Earlier I have asked local authorities to preserve the forests, which are very crucial for the food and storm prevention. I have also proposed to defer resort projects. However, my proposals have not been approved."
The mangrove forests in the coastline have prevented Da Nang City from being hit hard by typhoons earlier, Thang adds.
The central provinces are made to pay dearly for eliminating the mangrove forests, with the surging number of homeless households caused by typhoons in recent years.
Many sections on the road alongside the coastline - starting from Hoi An Town to Da Nang City - have been collapsed by raging waves.
Tidal waves caused by high tides have destroyed more than 50 meters of damp of Da Nang City's My Khe beach so far this year and shown no sign of stopping.
"Waves earlier were not as fierce as current ones. Waves are getting stronger, while there is no more mangrove forest to protect the city," a local told Dau Tu Tai Chinh Newspaper.
Many households on Nguyen Tat Thanh Street alongside the coastline in Da Nang City were evacuated from the storm in June, 2006.
"Earlier makeshift houses could even stand against fierce storms thanks to the forests. But then they were destroyed to make space for the street. Now even well-built houses are easily collapsed by storms," says a local.
Resort investors in the ancient town of Hoi An – one of the country's most attractive tourist spots - in Quang Nam Province are also among victim of raging wages.
"Mangrove forests are the most efficient walls preventing tides and waves. Without them, we definitely struggle with sea encroachment," says Le Thi Can, a resident in the town.
Experts warn as the sea level keeps moving up, resorts alongside the coastline in Quang Nam Province and Da Nang City will likely swallowed by the sea in the next 5-10 years.