On the occasion of the 91st Vietnamese Revolutionary Journalism Day (June 21th, 1925- 2016), many delegations from police, army and health departments yesterday visited and congratulated the Editorial Board, staffs, journalists and editors of Saigon Giai Phong (SGGP) Newspaper.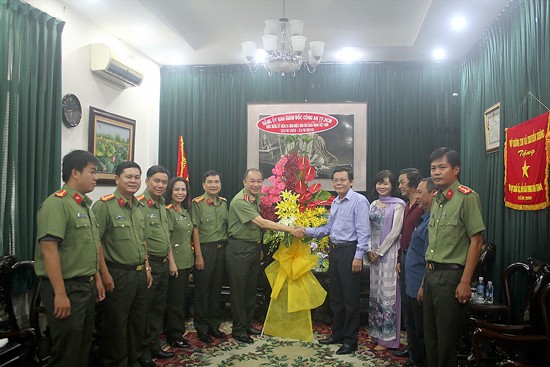 Delegations visit SGGP Newspaper on Vietnamese Revolutionary Journalism Day. (Photo: SGGP)
The delegation of police, army and health respectively led by Director of the HCMC Police Lieutenant-general Le Dong Phong, Vice Political Commissar of Naval Zone 5 colonel Dau Khai Hoan and Director of the Communications & Information Department Nguyen Dinh Anh.
At the meeting, they offered flowers and expressed their pleasure as SGGP Newspaper uninterruptedly posted information and activities of the departments and agencies contributing to build solidarity between people and army forces.
On behalf of the Editorial Board, Editor-in-Chief of SGGP Newspaper Nguyen Tan Phong thanked the delegations for their víit adding that SGGP Newspaper will try to increase the quality of information in line with the official organ of the HCMC Party Committee.