The 15th UN Climate Change Conference is set to be held in the Danish capital Copenhagen in December this year. SGGP spoke to Denmark's ambassador in Hanoi, Peter Lysholt Hansen, about the conference and its goal.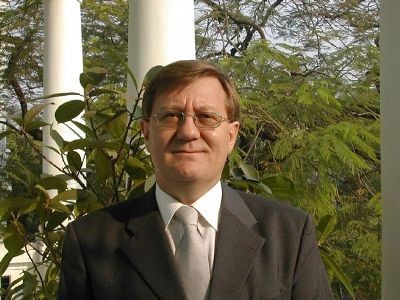 Mr. Peter Lysholt Hansen, Denmark's ambassador to Vietnam
-Journalist: How has your "Green Embassy" campaign fared thus far?
-Mr Peter: The Green Embassy project, which aims at reducing the embassy's electricity consumption by 2 percent annually, or 6 percent in total, from the beginning of 2009 until the end of 2011, came off to a flying start at the beginning of this year and the results until now far exceed our expectations. To give you an idea of how well we are doing, I can tell you that, compared to last year, the embassy has used significantly less electricity in January, February and March this year, with consumption being respectively 23 percent, 39 percent, and 20 percent lower this year than at the same time last year.
While a part of this reduction in consumption no doubt is due to the much milder winter this year, which has meant that we have spent less energy on heating in our offices, a significant part of the reduction is unquestionably thanks to our staff now being a lot more energy efficient and environmentally friendly in their daily routines at work.
For instance, it is beginning to pay off that we have been spending quite a lot of time reminding staff to turn off their computer and the lights and air-conditioner in their office and so on before they leave at the end of each day. We have also, where possible, replaced all normal light bulbs with energy-saving ones. Overall, the results so far are very encouraging and we are confident that we shall reach the targets we have set ourselves.
-Can you give us your opinion about "A Better World"?
A world with no pollution would indeed be a better world. Unfortunately, zero pollution is impossible: If the more than 6 billion people on the planet are to have food and shelter as well as jobs and hopes of a certain standard of living, it cannot be done without impacting on the environment. However, we can all take steps to minimize our impact on the environment.
In Danish there is an old saying: 'Many little brooks make up a great river.' It's the idea behind that saying we need to have when we think about pollution: If all of us (the little brooks) share the same attitude and adapt a more 'green' and less polluting behaviour locally, it will have a great impact on the global environment, and a great river may flow from our joint efforts.
It is true that particularly the big companies are those who can (and should) do the most, and many of the signs of pollution we see in the streets and in the countryside require an effort by the authorities and the big companies to be resolved. However, if you take electricity, it is typically produced from burning fossil fuels (oil, coal, gas and wood) which pollutes the air and is a contributing factor to global warming. If all of us make a little effort in our daily lives to save electricity, less electricity will be needed and global pollution will decrease. That is one little but significant way we can all help make this a Better World.
-What are you expecting in 2009? Can you tell us more about the conference to take place in Copenhagen in December? What would you like achieved through this event?
In December 2009 the world will gather in Copenhagen for the 15th UN Climate Change Conference, the so-called COP15. COP stands for Conference of Parties and it is the highest body of the United
Nations Climate Change Convention and consists of environment ministers who meet once a year to discuss the convention's developments.

Today the Kyoto Protocol regulates the generated part of global CO2 emissions and it will expire in 2012. This year's COP15 provides us the opportunity to reach a global agreement to follow the Kyoto Protocol on fighting the global climate changes.
Our goal is to work out a binding global climate agreement entered by the Parties, which will apply to the period after 2012. We would like the agreement to include as many countries as possible and combine respect for the environment, living standards and long-term security of energy supply in the best way possible.