Some days before Tet, Cam Ranh wharf, in the central province of Khanh Hoa, was brightened up with the white colors of marines' uniforms. Hundred of marines were preparing to go to Truong Sa (Spratly) islands as they said their goodbyes to their families. They looked strong and very confident.
Sailing for remote islands for tour of duty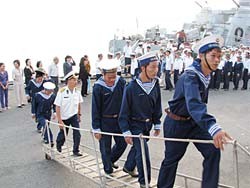 Marines eager for duty at Cam Ranh Port, Khanh Hoa Province (Photo: SGGP)
Hoang Dinh Dung, 29 years old, smiled making his face look younger than his age. The young soldier comes from Trieu Son, a midland district of Thanh Hoa Province, in the North Central Coast of Vietnam.
His house is 100 kilometers from the coast. Thanks to four years in the navy in Cam Ranh, he was very confident and said "This time, I go to Son Ca Island to do my duty. I had sent my parents a letter to announce that I would have Tet on the island and encourage them not to worry because I have my comrades."
Ensign Le Tan Canh, from the central province of Quang Nam, said that he had visited his family before he went away on the mission. He said that he was very happy because he met his seven month old son. His son was born while Canh was stationed on a remote island.
Huynh Van Phuong, from Nghe An, a province in the North Central Coast of Vietnam, received his orders for Len Dao Island for a  second time and said, "my wife will give birth to our first born in three days, I wish to hear my child's first cry. However, the duty of protecting the fatherland has to be done first."
Strong winds created waves like large mountains that hit the sides of the naval ship HQ 936, with a capacity of 2,500 tons. Many people got seasick and could not eat. After two days and 300 nautical miles the ship arrived at Da Lon Island.
In spite of seasick, everyone came to the deck to look at the island. From a distance, marines in uniform were waving to us.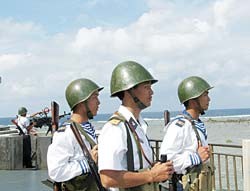 Soldiers on Da Lon Island (Photo:SGGP)
Happiness from letters
Da Lon Island greeted us with continuous white waves. From the naval ship, it took two hours by motor boat to Da Lon B on the island. It looked like a solid and superb fort in the sea.
Two islands Da Lon A and C are five to six nautical miles far from Da Lon B.
Meeting the delegation, the commander of Da Lon B Trinh Ngoc Linh said, "we have not had visitors for a long time." Soldiers had hung a banner to welcome the delegation.
Some soldiers had to guard, the remaining soldiers were gathering in front of a television to follow news from the land. These soldiers were very eager to receive letters from their relatives and friends when a ship arrived from the mainland.
As soon as we had just first stepped on the wharf, a young soldier asked, "are there letters from the mainland? We desire letters from our families."
"Have female singers come to the island?" another soldier asked.
Their faces lit with joy when we showed them the bag of letters that had just been carried to the wharf from the ship. However, there were many sad faces when we said that there were no singers because of the strong waves.
A 23 year old soldier, Doan Van Dung, from Thanh Hoa Province, was maybe the happiest man on the island at that time when he received 39 letters, 30 from his girlfriend and nine from his family.
"After finishing my guard duty at 10pm, I took two hours to read all 112 pages of the letters and could not sleep because I was so happy", Dung said.
Meanwhile, another soldier smiled because his lover urged him to come back and get married. When he told us about his lover in his hometown, his tanned face became red.
Leaving the Da Lon Island, the ships whistle resounded as a farewell to the island. When waving hands became hidden after waves and wind, we felt wet in the corner of our eyes, as we left the soldiers guarding a remote island.