Advertising costs are pushing up the prices of milk products, the deputy head of the Viet Nam Standards and Consumers Association (Vinastas) said at a conference held by Vinastas to discuss the high prices of milk and milk products and their quality in Hanoi on May 18.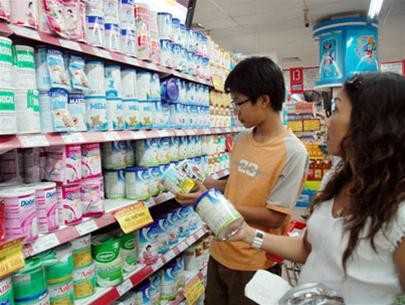 Vietnamese consumers pay the world's highest prices for dairy products (Photo: Tuoi Tre)
The prices in Vietnam are the highest in the world, Dr. Ho Tat Thang said, though global dairy prices have been decreasing and import tax was reduced last year.
Fresh milk costs US$1.4 a liter in the country compared to US$1.1 in China and US$0.5 in North America and Europe. It is US$0.7 in Malaysia and around US$1 in Thailand.
Producers spend a lot of money on advertising and marketing, he said, pointing out foreign companies spent US$30 million to advertise on television last year and around US$60-70 million on marketing, though he did not say how much it added it to each company's costs.
Foreign milk powder brands hold an 80 per cent market share.
Mr. Thang said the price of imported milk powder is around VND60,000 including tax. Supplements, packaging, and transportation costs increase it to around VND100,000 a kilogram but many powdered milk brands cost over VND200,000 in the market, he said, some even over VND300,000.
Dinh Thi My Loan, deputy chairwoman of the Vietnam Retailers Association, quoted foreign analysts as saying profits account for 15 - 40 per cent of retail prices in Vietnam.
Mr. Thang called for placing dairy products in a list of goods whose prices are controlled by the government.
The National Nutrition Institute's deputy head, Dr. Nguyen Thi Lam, advised parents to supplement their children's diet with seafood, fish, meat, eggs, vegetables and oils rather than depend on the supplements milk producers claim to add to their products.
Participants said many producers cheated in the past on the purported protein content in their products though selling them for high prices.
Vinatas and the National Nutrition Institute said they would test milk samples to see if they contain the growth and immunity supplements and other substances indicated on the packaging.