Within just a short span of time since a fire destroyed Quang Ngai Market in the central province of Quang Ngai last month, another fire broke out in Dong Hoi Market in the central province of Quang Binh on April 2, raising concerns in the public. Most of the markets in the provinces lack fire fighting equipment and are poorly covered under insurance, which raises the risk factor even more.

No Emergency Exits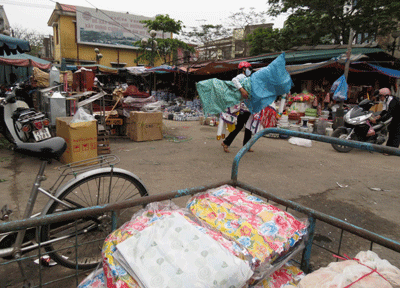 The outside of Dong Hoi Market littered with inflammable material (Photo: SGGP)
The very next day after the fire in Dong Hoi Market, activities resumed to normal with around 7,000 customers shopping in the market right next to the burnt down portion, which was being cleaned alongside.

Many merchants said that the only emergency exit out of the market had been closed, and the space had been converted into a storeroom and a guard booth.
Moreover, the space that was meant for a water tank, hydrant and   sand container for firefighting at the back of the market had been covered and leased to plastic traders.

Hoa, a merchant in the market, angrily shared that even though she and other merchants had objected to these illegal actions, the market management had not rectified the situation. Rather managers had allowed disorderly expansion of selling booths, covering nearly every possible fire hydrant and escape area with merchandise.

With so many obstacles in the way, it is impossible to fight a fire whenever such an incident occurs.

Lurking danger

On an average, there are more than 100 markets of different sizes in Quang Binh Province, all of which are loosely fitted with electric wiring and no proper insulation, making it highly ignitable with the smallest possible spark.

After a huge fire a few years ago, Son Trach Market in Bo Trach District was rebuilt to serve tourists in the Phong Nha area; but still the firefighting conditions in the market are no better than before, with traders connecting electric wires on their own.

A similar situation can be found in Ga Market in Dong Hoi District, the second largest market in the province. In Ba Don Market, nearly all the fire extinguishers were stolen a long time ago and whatever equipment they have there is totally damaged.

According to the Quang Binh Fire Fighting and Prevention Department, all markets in the province are in high risk of a fire, which can be disastrous for the state and for businesses.

With worn-out fire fighting equipment, markets in Da Nang City, the largest city in the central region, are in great risk. Colonel Duong Mai Canh, head of the Da Nang Fire Fighting and Prevention Department, stated that because of downgraded infrastructure; overcrowding and disorganised business; along with so many inflammable goods, almost all markets in the city could catch fire as serious as the one in Quang Ngai Market.

Adding to the already hazardous situation, awareness among traders is so low that they do not care about their own safety, saying that it was difficult for such a big place to catch fire.

Besides connecting electric wires illegally, traders even burn fake money inside the market when they perform the worship ceremony for their dead ancestors. The negligence of the market management also plays an important part in encouraging a high-risk situation.

Other major markets in the northern central parts of the country such as Dong Ba Market in Thua Thien Hue Province have the same problem, hindering the task of fire extinguishers.
When asked about insurance for their merchandise, traders in Dong Hoi Market clearly showed disinterest. According to Nga, a businesswoman possessing goods valued at more than VND300 million (US$14,390), no one has discussed insurance with her.

Hong, a businessman, said that he would not deliberately buy insurance since he did not believe he would receive any money back from the insurance company, with so many complicated procedures in place.

Moreover, most insurance companies in the area do not have an insurance policy that would serve such customers.