Downtown areas and some districts in big cities like Hanoi and Ho Chi Minh have been lit up and festively decorated for Christmas and to ring in the New Year.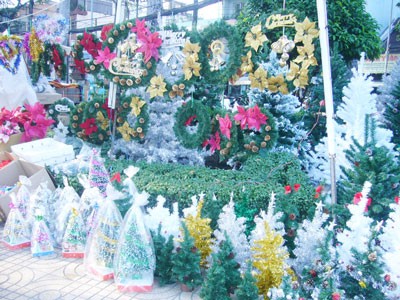 Christmas trees and decorations displayed on streets are luring few customers (Photo: SGGP)
Across the country, streets to family homes, churches to shops, are colorfully decorated with lights, snow, Santa Claus and Christmas gifts. However, the economic downturn has dampened the spirit considerably with markets feeling the pinch with fewer customers this year.
On December 12, two churches, three kilometers apart, were lit up in Binh An residential quarter in District 8 in HCMC, where most people are Catholics.
Mrs. Le Thi Ba, a resident of the quarter, said despite economic difficulties, people have tried to welcome Christmas by decorating their houses with artificial pine trees, lights, bells and lanterns and grottos for baby Jesus. 
In addition to helping with chores in the church near her house, Mrs. Ba sells sugarcane juice to earn more money. Visitors flock to the quarter to watch the festivities and take photos. The area is also now mushrooming with popular and cheap roadside eateries.
Streets, shopping centers and stores in HCMC are beautifully decorated and filled with a wide range of goods in preparation for Christmas.
Shops specializing in Christmas decorations on Hai Ba Trung, Vo Thi Sau, Cach Mang Thang Tam, and Hai Thuong Lan Ong Streets are displaying all kinds of colorful items, including stone grottoes, lights, lanterns, clothes and gifts.
Restaurants, hotels and shopping centers in the City are bedecked with lights and decorations to welcome Christmas.
On the crossroad of Nguyen Tri Phuong Street in District 5, people were seen buying gifts or looking for beautiful items to decorate their houses from roadside shops. Traditional goods such as artificial pine trees, flashing lights, bells and lanterns still attract a lot of customers.
Yet shop assistants complained that though Christmas was round the corner, few people are buying. Mr. Hai, a customer, dropped by a shop to buy some items for decoration but he said he would use the old artificial pine tree to save money.
On Hai Ba Trung Street near Tan Dinh Church in District 1, stone grottoes of various designs fetch VND500,000 (US$24) and are selling like hot cakes as they have flashing lights and a statue of Christ inside.
Each pine tree of 50cm-250cm height is priced between VND600,000 and VND1,000,000 ($30-$48) a piece, depending on material and size. A set of Santa Claus clothes and hats for children are selling for about VND100,000; but a hat with reindeer horns sold at VND70,000. Most of these items are from China.
In Ten Lua residential quarter in Binh Tan District, the atmosphere is rather quiet and there is no sign of Christmas celebrations like in previous years. People want to save on electricity so decoration lights will be lit up from December 20 until the New Year.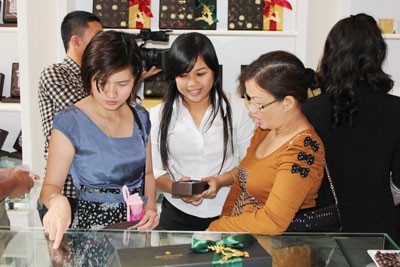 Customers buying D'Art Chocolate (Photo: SGGP)
Roast duck, chicken, and turkey will be sold from December 20 but prices are set to increase by 30 percent or nearly VND240,000 ($11.5) in Ten Lua residential quarter. Yet this year, people prefer to eat dog meat as news of rotten water fowl being brought into the country has frightened people.
Hy Lam Mon Bakery forecasts that price of Christmas cakes will hike due to surge in price of sugar, milk and eggs. The bakery offers a variety of cake with filling of liqueur, fruit, or cappuccino cream, instead of the usual jam. This kind of cake fetches VND200,000-VND300,000 higher than normal cakes, depending on the size.

Duc Phat and ABC Bakery also announced prices of Christmas cakes will increase.
An exotic chocolate will be in the market this year.  The new fresh chocolate with wine, almonds, and chestnuts inside is designed with bells, reindeer and pine tree. This new product of D'Art Chocolate ranges from VND125,000 to VND895,000 and is popular with young people.
As Christmas and New Year is close to Lunar New Year, people have nine days off so a few people have decided to take a trip on this occasion. Tran The Dung, deputy director of Young Generation Travel Agent, said they have launched two tours to the northern provinces for Christmas, but only a few people have registered for these so far.
Tran Viet Hong Lan, head of Nam Phuong Travel Agent, said his company will organize trips to welcome the New Year on Hon Ba Mountain in the central province of Khanh Hoa and a drive through the primeval forest from Bidoup to Da Lat on motorbikes. Tour will cost nearly VND1 million and hopes to attract students and young people.