Tens of tons of ark clams and many snail species have been dead and washed ashore along the beach in Ky Anh District, the north central province of Ha Tinh for the last one week that is believed to be in environmental pollution.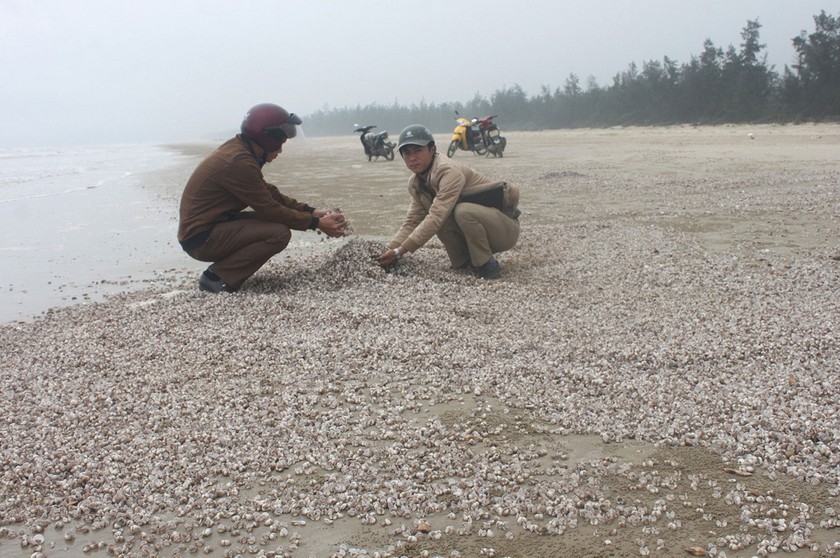 Dead ark clams and snails cover the beach in Ky Anh District, Ha Tinh Province (Photo: SGGP)
The largest volume of dead shellfish has been found in Ky Ninh Commune, 60 kilometers from Ha Tinh city.
Along the ninth kilometer beach in the commune, tens of groups of local people were collecting the dead clams and snails with rakes, hoes and shovels and buried them on March 9.
Twenty six year old Nguyen Xuan Truong, deputy secretary of the commune's Ho Chi Minh Communist Union Committee, said that cleanup operation has met with difficulties because of increasing volume of dead shellfish.
After being cleaned up this day, the beach has been covered with new layers of dead clams and snails on the following day, he said.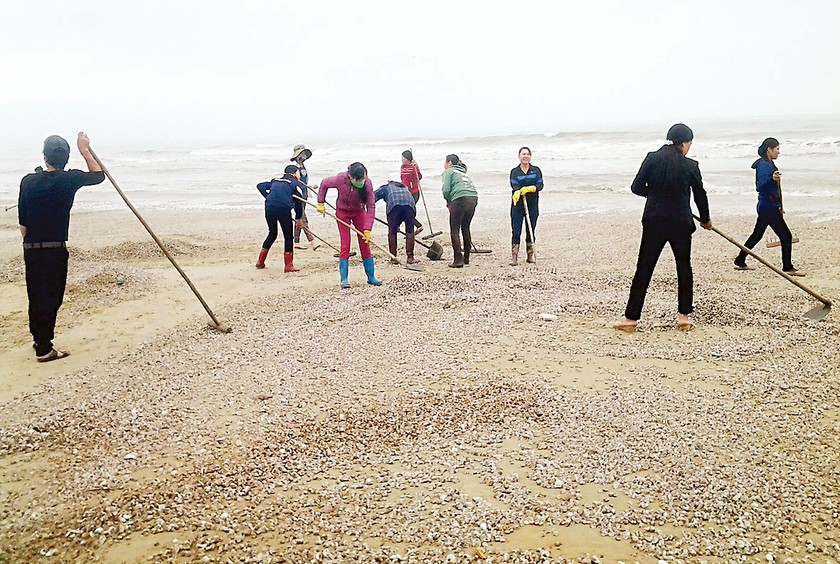 Local residents collect dead ark clams and snails (Photo: SGGP)
Local authorities have mobilized all possible forces but failed to clean the beach.

Eighty four year old Nguyen Thi Tuan from the commune said that was the first time she witnessed such a huge volume of dead shellfish.
It has possibly been caused by environmental pollution, according to deputy head of Ky Anh Department of Agriculture and Rural Development (DARD) Nguyen Thi Thuy. Earlier, high tides were red and muddy. Thence, farmed oysters of local people have died en mass, she told.
Head of Ha Tinh Animal Health Department Pham Thanh Binh said that they have worked with authorized agencies to inspect and bring out reason for the dead clams and snails.