Hanoi has just held an international press conference on April 10 to announce series of meaningful activities on the 60th anniversary of Dien Bien Phu historical victory.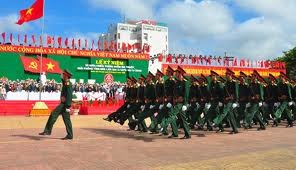 Army forces parade on anniversary of Dien Bien Phu historical victory(Photo: SGGP)
Representatives of the organizers said that the activities aim to propaganda the meaning and great historical significance of Dien Bien Phu victory, educate patriotism tradition to young generation, implement responsibility of economic, social development, and ensure national security and defense.
Besides, the activities will help domestic and oversea Vietnamese and international friends understand more about the history of the nation.
Speaking at a press conference, Deputy Minister of Culture, Sports and Tourism Huynh Vinh Ai said that the anniversary ceremony of Dien Bien Phu historical victory will be held not only at Dien Bien province but also at provinces across the country.
Accordingly, more than 15,000 people will participate in parade at Martyrs Cemetery A1 in Dien Bien Phu city in the morning of May 7 after offering incense ceremony ends.
The parade will attract participation of Vietnamese armed forces, people and ethnic groups.
Later, a fireworks special program will take place at Square of Dien Bien Phu City at 8pm on May 7.