Delay in emergency medical aid reaching sick fishermen has resulted in an increase in deaths, as it usually takes vessels far too long to reach fishermen out at sea.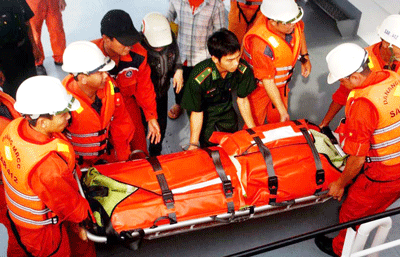 Delayed emergency aid has failed to save lives of a number of sick fishermen (Photo: SGGP)
Huynh Van Mich, 46, from Da Nang City, suddenly lost consciousness in mid April this year, while out at sea on his fishing boat. His fellow fishermen immediately called the Search and Rescue Centre Zone 2 in Da Nang City for help. The centre dispatched a vessel with a doctor and necessary medicines, but by the time they reached the fishing boat, Mich was already dead one hour.
Another case was that of Phan Anh Vu from Quang Nam Province in February. Tran Van Nhan, captain of the fishing boat on which Vu was, told while catching cuttlefish 40 sea miles off Song Tu Tay Island, Vu suffered bellyache and vomited blood.
Nhan immediately contacted the border army force in Quang Nam Province, which dispatched a medic on a vessel.  Instead of waiting for medical help to arrive, Nhan decided to move towards the rescue vessel. However, the two boats only met up after three days and Vu succumbed to his ailment.
Nguyen Van Con B, captain of a fishing boat from Da Nang City, said that most of the central fishermen are not equipped with first aid knowledge and kit. Thus when a member falls ill, they quickly head towards the shore or call for help.
Mr. Con B told that Nguyen Minh Tho from Quang Nam Province was suffering from appendicitis on Hoang Sa (Paracel) Islands in 2005. After being informed, the Ministry of Foreign Affairs called the international search and rescue centre in Hong Kong for help.
Few hours later, the centre sent a helicopter to take Tho to Hong Kong for treatment and thus saved his life. However, that was a rare and only case of timely help reaching a fisherman.
Nguyen Tan Pho, director of the Da Nang Emergency Centre 115, said that before responding physically to emergency calls, doctors begin by guiding fishermen on how to administer first aid on the phone, as it usually takes a long time to arrive at the scene.
Ngo Thi Phuong Thao, the centre's deputy director, said that if they can acquire helicopters, rescue operations will be quicker and timely and save more lives.
Tran Van Long, director of the Search and Rescue Centre Zone 2, said that they only have vessels to reach fishermen calling for help from thousands of kilometres out at sea. Despite running at full speed, the vessels can take days to reach the fishing boat.