More than a thousand doctors and medical technicians working in large city hospitals, including Hanoi, Hue and HCM City, have traveled to other hospitals nationwide to share their knowledge and medical techniques for Project 1816.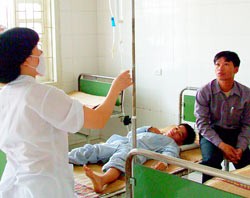 A ward in a provincial hospital, they often lack necessary medical equipment.
Established in September last year, the project is aimed at improving professional skills, as well improving the quality of medical examination and treatment in provincial hospitals

For over the past six months, doctors at Yen Bai Province General Hospital have received support and assistance from colleagues working for Bach Mai Hospital in Hanoi.

Evaluating the success of the project, Dr. Nguyen Kien Dao, director of the Yen Bai Province General Hospital said, "The project benefits us a lot, as we have chances to learn the latest medical knowledge and skills from the doctors of Bach Mai hospital."

"They have taught us 12 of the latest medical techniques related to first aid and diagnosis," added Dao. "Engineers from Bach Mai hospital have repaired 75 pieces of equipment for our hospital and most of them can be operated again now."

Dr Dao added that 30 percent of patients suffering from serious diseases have been successfully treated by the doctors of Yen Bai Hospital. Without the project, these patients would have been transferred to hospitals in Hanoi.

Sharing Dr Dao's view, Dr. Trinh Van Hai, director of Ha Nam Province General Hospital, said that doctors' professional skills have significantly improved as they can learn a lot and gain experience from the doctors of Huu Nghi, Bach Mai, Central Maternity and Odonto – Maxillo and Facial Hospitals.

Dr Hai pointed out that doctors of Ha Nam Hospital now can deal with medical cases that require complex techniques related to diagnosis and treatment, such as bronchial asthma and coronary obstructed pulmonary disease.

Director of Quang Nam Province Department Province Dr. Thai Ngoc Huynh Van, said that it is still too early to assess the overall efficiency of the project but emphasized that it is producing very encouraging results.

Dr Van pointed out that three months after receiving support from doctors of Hue Central Hospital, doctors at Quang Nam Province General Hospital can now deal with complicated cases, including lung cancer surgery and endoscopic variceal ligation.

According to the latest reports from the Ministry of Health, over the past six months, 1,037 doctors and medical technicians from 58 hospitals in Hanoi, Hue and HCM City have visited hospitals in 57 provinces and cities nationwide. They have taught 20 of the latest medical techniques to 3,000 doctors.

More than 42,600 patients in provincial hospitals have received co–treatment from local doctors and those from hospitals in large cities.

Ho Chi Minh City, said Dr. Ly Ngoc Kinh, director of the Treatment Department of the Ministry of Health, tops the list of cities that have the highest number of doctors taking part in project 1816.

So far, 261 doctors and medical technicians working for 22 hospitals in the city have shared their experience, professional knowledge and skills with 340 colleagues in provincial hospitals. Among them, 157 work under the management of HCMC Department of Health.

Dr Kinh announced that a further 192 doctors and medical technicians from 21 hospitals will visit provincial hospitals in the first quarter of this year.