Cases of mushroom poisoning have posed high risks of death in the northern mountainous provinces, according to the Vietnam Food Administration.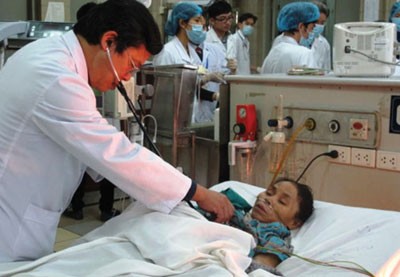 A patient is treated for mushroom poisoning (Photo: SGGP)
People forage for mushrooms widely during the peak spring season for growth.
The Bach Mai Hospital's Poison Control Center in Hanoi received five patients from Tuyen Quang Province suffering from acute poisoning from eating mushrooms collected from the local forest.
Despite warnings of medical workers about the possibility of mushroom poisoning, people still forage for meals in the forest, said Dr. Nguyen Kim Son, deputy chief of the Poison Control Center.
Most foragers who have been affected by poisoning are ethnic minority people.
The five patients reported symptoms of stomachache, vomiting, nausea, diarrhea and a drop in blood pressure when they were rushed to emergency rooms, said Dr. Son. They had ingested a toxic, white mushroom.
Poisoning from eating toxic mushrooms can cause serious damage to livers and digestive systems. Treatment by filtering blood continuously is very expensive and time-consuming.
In the past five years, the country had nearly 150 cases of mushroom poisoning, according to Vietnam Food Administration. This includes 60 fatalities.
Residents should not eat wild mushrooms because it is very difficult to distinguish between edible and poisonous mushrooms, said Dr. Nguyen Thanh Phong, deputy head of the Vietnam Food Administration.
Medical workers advise people experiencing mushroom poisoning to induce vomiting and take activated charcoal and laxatives.
If victims detect mushroom poisoning of over six hours, they must be rushed to large hospitals where blood filtration is necessary.