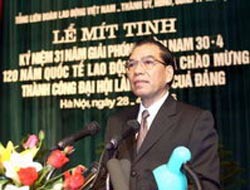 Mr Nong Duc Manh gives speech in the meeting
Addressing the event, which took place right after the successful 10th National Congress of the Communist Party of Viet Nam, General Secretary Nong Duc Manh highlighted the significance of the 1975 victory and the May Day.
He said the recent Party Congress has opened a new stage for Viet Nam's further development to become a modern industrial country by 2020.
He expressed hope that the whole Party and nation would uphold the revolutionary tradition, persist with the target of national independence and socialism and successfully implement the Resolution of the 10th Party Congress.
Source: VNA