A large meeting was held atthe Hanoi Opera House on August 10 to commemorate the 50th anniversary of theday when Agent Orange/dioxin was first sprayed by US troops in Vietnam -- August10, 1961.
Vice State President Nguyen ThiDoan and representatives from ministries, sectors, domestic and foreignorganisations attended the event.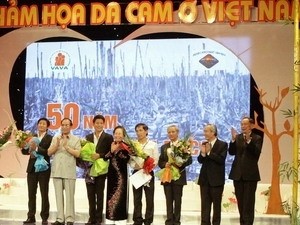 Vice President Nguyen ThiDoan (4th, L) on the stage during the meeting in Hanoi on August 10, 2011(Photo: Vietnam News Agency)
Vice President Doan said the toxicAO/dioxin used by the US army during the war in Vietnam dispossessed millions ofVietnamese people of the right to a normal, healthy life. Many of them wereafflicted with disabilities and their offspring suffered inborndeformities.
For many years, the Party, State aswell as people in the country and overseas gave spiritual and material supportto help AO victims and their families. However, the lives of Vietnamese AOvictims were still difficult due to ongoing sicknesses and many families facedthe risk of extinction.
Vice President Doan called onpeople and soldiers across the country to join hands to contribute to reducingthe pain of AO victims and help improve their living conditions.
She also urged the US government totake responsibility for losses to the people and environment ofVietnam.
While praising the US government'srecent initial cooperative steps, Vice President Doan expressed her wish that itwould cooperate more closely with the Vietnamese Government and people inovercoming the consequences of AO/dioxin, assist with the care of AO victims anddetoxify locations which have the highest dioxin residues in Vietnam.
The Vice President called onorganisations and individuals all over the world to give more support toVietnamese AO/dioxin victims during their daily lives and in their struggle forjustice.
Vice President Doan affirmed thatsupport and assistance from international friends are not only for Vietnamese AOvictims, but also for AO victims in other countries in the world.
Doan took this occasion to call onall people to unite in the fight against AO/dioxin – and every chemical andbiological weapon – for perpetual peace and justice.
President of the VietnamAssociation of Victims of Agent Orange /dioxin (VAVA) Nguyen Van Rinh said thatmany prestigious scientists in toxicology, medicine, chemistry, environment andlegislature shared their experience with VAVA and supported many projects tohelp overcome the consequences of AO/dioxin in Vietnam.
Rinh also said that support fromthe entire society and progressive and peace-loving people in the world are agreat encouragement to help the AO victims to overcome their complexdifficulties and integrate them into the community.
The lawsuit of Vietnamese AO/dioxinvictims was recently rejected by the US court, but garnered an important socialand humane victory. It initially influenced the US legislative and executivesectors, which was manifested through recent actions of the US government andparliament on solving the aftermath of AO/dioxin in Vietnam, he said.