Prime Minister Nguyen Tan Dung yesterday told Mekong Delta authorities to purchase and stockpile one million tonnes of the winter-spring rice crop.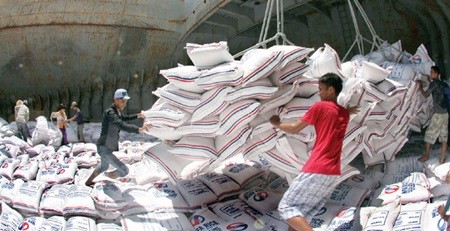 Workers load rice for export at Sai Gon Port in HCM City. Prime Minister Nguyen Tan Dung has asked Mekong Delta authorities to buy and stockpile one million tonnes of rice (Photo: VNS)
The State Bank of Viet Nam (SBV) was asked to direct commercial banks to offer loans for the purchase, with a six-month maturity to August 31.
Interest rates will be wholly subsidised by the Government until June 30.
The PM ordered the Ministry of Finance and the SBV to provide guidelines to carry out the Government's policies and allocate State financial sources to support the stockpiling.
In collaboration with the People's Committees of centrally-run cities and provinces in the region, the Viet Nam Food Association will be responsible for allocating the rice to be purchased by each locality and also monitoring the process.
The Ministry of Agriculture and Rural Development and the Ministry of Industry and Trade will closely supervise the programme and report to the PM.