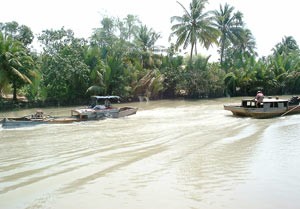 Residents in Can Tho City move to higher ground as a safety precaution on Thursday (Photo: TC)
Five days of driving rain and extreme tides have taken their toll on more than 40 dykes and nearly 100 mudslide-prone areas in the Mekong Delta.
In Soc Trang and Can Tho, massive mudslides have buried over 1,000 hectares of sugarcane and other crops, threatening the livelihoods of 4,000 families in the vicinity.
In An Giang to the west, rising floodwaters and strong currents have destroyed nine kilometers of dyke, forcing over 600 families to move to higher ground as a safety precaution.
In Dong Thap at the heart of the delta, the threat of riverbank collapse is extreme along the edge of the heavily populated Tien River, and some 450 of the 4,700 households living by the river need to evacuate urgently.